Battle of Midway Week, Pearl Harbor:

06 JUN Station HYPO Tour!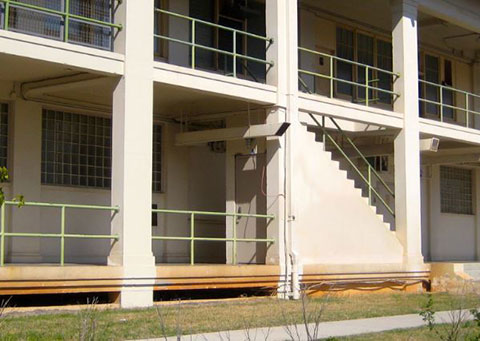 (Steps down to the Dungeon at Building 1, Pearl Harbor Navy Shipyard. Photo Socotra).

Rarely opened to the public, on the sixth of June (D-Day's 72nd anniversary elsewhere) Station HYPOs hallowed spaces will be open for viewing!

Seventy-four years ago, the last air attacks of the battle of Midway took place on 06 June, 1942, when dive bombers from USS Enterprise (CV-6) and Hornet (CV-8) bombed and sank heavy cruiser IJN Mikuma. Also damaged were the IJN destroyers Asashio and Arashio, as well as the cruiser Mogami. Due to the horrifying loss of nearly three complete torpedo squadrons on 4 June, Admiral Raymond Spruance insisted that the "Devastators" from VT-6 accompanying the strike package not engage due to the threat from the deadly accurate Japanese antiaircraft fire. After recovering these planes, Task Force 16 turned eastward and broke off contact with the enemy.

Also on the 6th, Japanese submarine I-168 interrupted salvage operations and torpedoed USS Yorktown (CV-5) and sank destroyer USS Hammann (DD-412). Screening destroyers depth-charged I-168 but the Japanese submarine escaped destruction. Yorktown, suffering from numerous torpedo hits, finally rolled over and sank at dawn on 7 June.

COMINT intercepts decrypted in the Dungeon in the basement of the Naval District 14 Headquarters at Pearl over the following two days documented the withdrawal of Japanese forces toward Saipan and the Home Islands. ENS Mac Showers later recounted his duties during the battle, sitting in a chair underneath the pneumatic "bunny tube" message delivery system to race accounts of the fight to CDR Joe Rochefort and LCDR Eddie Layton. He was disappointed that there was not more reporting from the Fleet, and the news of what intelligence had done to prepare Admiral Spruance to fight the decisive sea battle of World War Two.

The Dungeon is still there, and will be opened to the public for a rare occasion on 06 June to commemorate the contribution of intelligence to the great victory. Most of the time, the staircase leading down to the basement where Station HYPO was located is closed, and the door at the bottom is firmly locked, and festooned with signage forbidding the presence of electronic devices. This is a rare and historic occasion, akin to the opening of Winston Churchill's Cabinet War Rooms in London's Whitehall.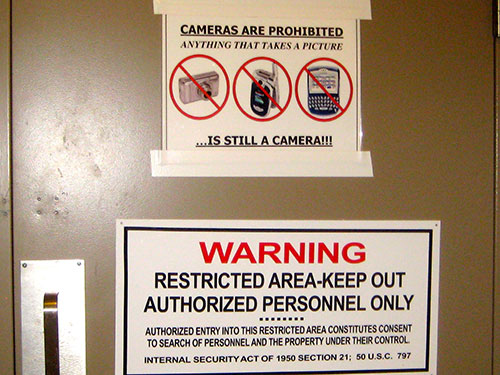 (The door to The Dungeon, 2015. Photo Socotra).

Since the end of the War, The Dungeon has been converted to training and storage uses and has not been restored to its wartime appearance. Extensive remodeling has occurred, but there are reports that some archeologically significant features remain. To aid the celebration of what incredible work was done in these spaces, Mac Showers sketched out the floor plan of the working HYPO in 1942: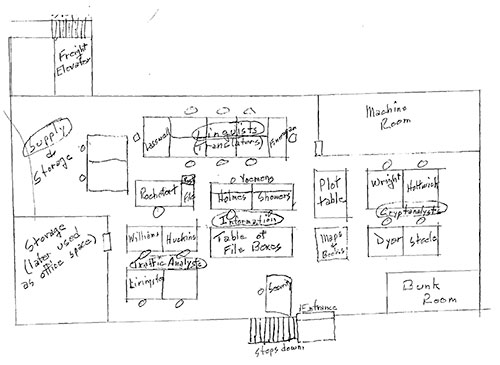 (The fate of the Pacific War may have been determined in the middle of The Dungeon. The scheme to identify "AF," the target of the Japanese Attack was devised by Jasper Holmes in the center, next to the desk of Mac Showers. Joe Rochefort presided from his desk at left center, next to Marine Red Lasswell, who supervised his team of linguists. At the right is the cluster of desks manned by Ham Wright, Jack Holtwick, Tommy Dyer and J.M. Steele.)

Support efforts to restore this historic place, and place appropriate signage at Building 1!

Time/Place: 1430-1600, Bldg 1 PACFLT Naval Shipyard, Pearl Harbor Dress: Navy: Tropical White Long. Other Service: Duty uniform. Civilian: Aloha casual.

*Questions to PACFLT LTJG Manpreet Hotelling 474-4442 manpreet.hotelling@navy.mil
PACFLT/Hypo- LT Rich Hathaway 474-4442 richard.hathaway@navy.mil

Copyright 2016 Vic Socotra
www.vicsocotra.com
www.navintpro.org