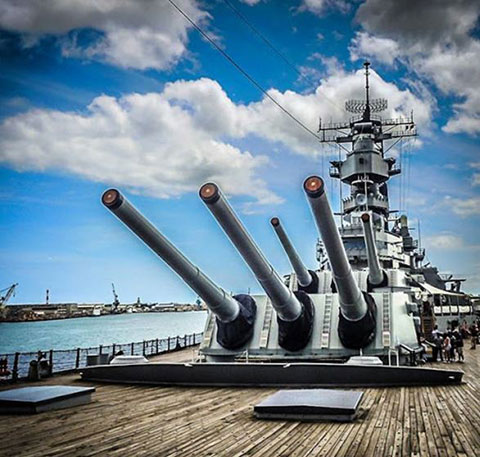 The commemoration of Battle of Midway Week continues in Pearl Harbor:
On the morning of the 4th of June, 1942, the round-the-clock efforts of CDR Joe Rochefort's code-breakers in The Dungeon in the basement of the 14th Naval District Headquarters in Pearl Harbor paid off. The compelling estimate of Japanese intentions provides by CAPT Eddie Layton to ADM Chester Nimitz enabled Navy combat forces to take over. PBY Catalina found the Japanese early in the morning, and although initial strikes by Midway Island-based planes were not successful, carrier-based Fleet aviation turned the tide. Torpedo bombers had become separated from the SBD Dauntless dive-bombers were slaughtered, with nearly all the attacking wave shot down. In their relentless and determined sacrifice, though, they had diverted Japanese defenses just in time for the dive-bombers to arrive.
The Japanese carriers were caught while refueling and rearming their planes, making them especially vulnerable. The Americans sank four fleet carriers–the entire strength of the task force–Akagi, Kaga, Soryu, and Hiryu, with 322 aircraft and over five thousand sailors lost.
Admiral Nimitz, upon hearing the news, reportedly turned to his intelligence officer and said: ""Well, you were only five miles, five degrees and five minutes off."
To commemorate the greatest naval victory since Trafalgar, a gala formal event will be held onboard USS Missouri, moored in place of honor astern USS Arizona (BB-39) on Battleship Row on Ford Island. The symbolism is intense, since the greatest loss of life in the Pearl Harbor attack was in Arizona, and the instrument of the Imperial Japanese surrender was signed on the teak decks of Missouri.
Date/Time: 04 June, 1800-2200
Place: Onboard USS Missouri (BB-63) (first half hour cocktails/pictures)
Dress: Military: Service dress white with ribbons. Civilian: Aloha Cocktail. Guests welcome
Price: Ticket cost: $65
Questions? Call Cathy Perez 564-4025 or email: catherine.wolo.perez@gmail.com
After sunset and the observation of colors, there will be a cocktail hour with tours of the historic ship, hors d'oeuvres, and festive 1940s music provided by the Pacific Fleet Band. Completing this memorable event will be dessert and champagne toasts on the fantail.
The gala will be a memorable and visible event demonstrating the relevance of intelligence to operations. It is also a powerful reminder of the all the great men and women who fought so dearly to preserve our freedom and restore peace across the broad Pacific.